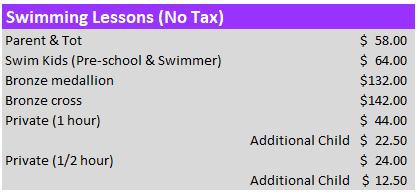 Please choose from the available weeks for lessons below and complete the form to register. A complete listing of Lessons with dates & times can be found in our 2023 Valley Aquatic Newsletter. Not sure what swim level to register for!? Check out our Lifesaving Society Guidelines for Registration Chart
Evening Lessons - Registration opens May 24 @ 12:00pm
Summer Lessons - Registration opens June 3 @ 10:00am
Set 2: July 3-7
Set 3: July 10-14
Set 4: July 17-21
Set 5: July 24-28
Set 6: July 31 - August 4
Set 7: August 7-11
Set 8: August 14-18
Set 9: August 21-25
Payment will be required prior to the start of the lesson to confirm your spot.
Phone the VAC or follow us on the Rosthern Valley Aquatic Centre Facebook Page for
hours of operation that week.
We accept cash, cheque, & debit at the VAC.
We accept payment by Credit Card over the Phone.
PRIVATE LESSONS
We plan to offer Private Lessons in July and August. Registration for Private Lessons will take place later in June. Please submit a request for Private Swimming Lessons and the Aquatics Supervisor or Head Lifeguard will contact you to confirm the time and dates of the private lessons.
Private Lesson Request Form - Coming Soon
Swimming Lesson Refunds
Lessons must be cancelled a minimum of 10 days prior to the start of the lesson to receive a full refund. A refund request within 10 days of the start date, or once the lessons have begun but no more than 20% of the lesson is complete, will receive a 50% refund. No refunds will be issued after 20% of the lesson is complete.
Please contact the VAC at 306-232-5044 or email vac@rosthern.com for any other inquiries.